Cisco DNA Center and Telelink – Simplify your network operations 
Cisco DNA Center is a management system using artificial intelligence (AI) and machine learning (ML) relying on its abilities to optimize digitalized processes.
The system provides monitoring, troubleshooting, and automation of (your) network operations. It includes built-in automation and simplified workflows empowering more efficient operations. It enables business process automation with an extensive Cisco ecosystem and integrated third-party applications.
One of the acknowledged advantages is the consistent user experience across both Cisco wired and wireless networks, delivering secure, seamless, and reliable connectivity among users and applications.
Cisco DNA Center is a reliable solution adaptable to any customer and network.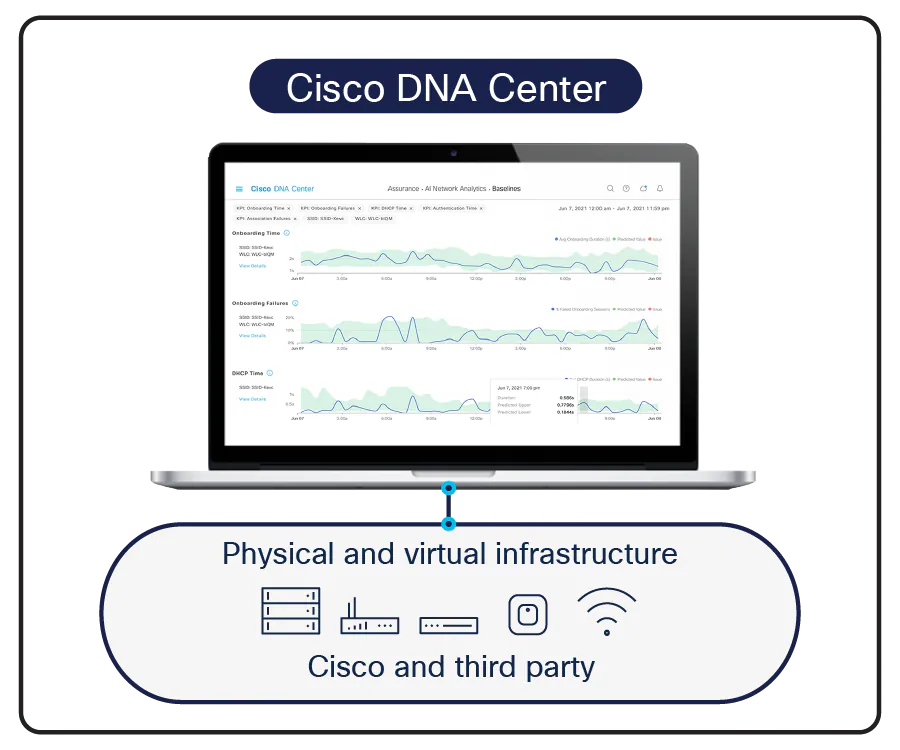 ---
---
Use Cases and Benefits
Customers need to be agile, resilient, and productive.
These demands put pressure on the underlying network, causing it to continually expand. Enterprises often find stopgap solutions to enlarge their networks and address their urgent needs, resulting in increased fragmentation and exposure to more security risks. As a result, the IT experience suffers. The immediate outcome is a worsened user experience.
What is the solution? Simplify your IT experience with Cisco DNA Center with:
● Simplified operations
Simplified network management is one of Cisco DNA Center primary pillars. By automating routine operations and predicting potential problems it accelerates issue resolution.
The reduction of human errors depends on multiple functions of the solution. One of the main ones is the automated software image management that eliminates the manual effort involved in keeping device software up to date. Furthermore, predictive analytics functions identify potential issues before they become problems.
● Improved user experiences
Cisco DNA Center provides a better user experience through visualized Wi-Fi spatial coverage across floors and walls of a building in 3D. It optimizes coverage and delivers services where needed. The implemented AI fine-tunes the Wi-Fi performance and coverage based on actual usage. It identifies and resolves issues with end-user devices using integrations with device and chipset vendors including Apple, Samsung, and Intel.
● Digital agility
Cisco DNA Center improves digital agility using Cisco and third-party ecosystem to automate and streamline IT processes. For instance, ServiceNow ITSM leads to automating incident management and creates a positive shift in management processes. PagerDuty system on the other hand accelerates incident response resulting in better service availability.
The solution provides extended visibility into the internet resulting in better digital experiences for all users.
● Secured digital enterprise
Cisco DNA Center contributes to greater network security. Its proactive policy management and AI enforcement lead to smaller attack surfaces and fewer vulnerabilities.
The solution secures networks from compromised endpoints through the identification of anomalous behavior and automation of quarantine processes. Software automation, accurate configuration, and policy-compliance verification eliminate vulnerabilities in the network.
● Better sustainability with smart building solutions
Cisco DNA Center empowers sustainable solutions through smart buildings. It offers optimization of Power over Ethernet (PoE) infrastructure.
Providing valuable insights Cisco DNA Center leads to a reduction of power consumption of Access Points (APs) through central administration of AP power profiles and calendars. Furthermore, Wi-Fi 6/6E planning tools upgrade to more efficient Wi-Fi technologies.
"Our primary goal was to build a single platform that incorporates the policies of 20 group companies with about 6,500 employees, which posed challenges, but we managed to create the platform using Cisco DNA Center as the core technology."

Takaharu Kato, Vice President, Executive Officer (Managing Director of IT Solution Divison), Sega Sammy Holdings Inc.
---
---
---
Telelink Business Services – your reliable implementation partner
Telelink Business Services' business identity stands for simplifying complex IT structures and enabling organizations to do great things with technology. Our motto aligns with the core of Cisco's DNA Center – we both help clients achieve their sustainability goals.
Enterprise networks are at the heart of the digital infrastructure that power today's digital enterprises. They are business critical, and hence they must be robust and stable, scaling at the speed of business. Users demand mobility, uninterrupted connectivity, and seamless application experience, no matter where they are and how they are connected. An ever-expanding digital footprint, increasing use of public cloud, and remote and hybrid work introduce new risks.
How do you manage all these expectations and challenges without increasing complexity?
First and foremost, you need a trusted partner and a network management system that leverages AI to automate network operations securely and provide digital agility for the business.
Telelink Business Services can help you with Cisco DNA Center entire implementation. Being your trusted technology and digital advisor, our team can deliver the highest levels of visibility, security, and simplicity by having Cisco DNA Center in your network.
We see it as a comprehensive solution with adaptable functionalities such as design, provisioning, analytics, monitoring, and visibility.
Aligning with Cisco's products we empower organizations to focus their valuable human capital on business innovation and development.
"With the [Cisco] DNA Center Dashboard, we can control, monitor and manage the entire network from a single workstation."

Andreas Hurst, Head of Information and Communication Technology Department, City of Pforzheim